Japan-Sweden Science, Technology & Innovation Symposium 2014 held in May
Japan-Sweden Science, Technology & Innovation Symposium 2014 held in May
On May 21st, the Japan-Sweden Science, Technology & Innovation Symposium was held in Stockholm at the Royal Swedish Academy of Engineering Sciences (IVA).
The purpose of this symposium was to introduce global scale contributions to innovations in science and technology originating from Japan. For this purpose, we invited Japanese scientists that have brought forth results that are applicable for implementation for a sustainable society and lifestyle.
At this 3rd Symposium, we invited Professor Isamu Akasaki, inventor of blue LEDs. The symposium was co-organized by JSPS, IVA, the Chemical Society of Japan (CSJ), Japan-Sweden Foundation, and Meijo University.
Under the direction of chairperson Professor Satoru Kamiyama of Meijo Univ., the symposium began with an introduction of Professor Akasaki by Nobuyuki Kawashima, Executive Director of the CSJ. Attended by collaborators of Professor Akasaki, Professor Bo Monemar, with over 100 joint papers, Professor Lars Samuelson, who built a large nanowire research base in Lund and in the USA, and Christofer Sifvenius of the Swedish Department of Energy who introduced an energy consumption reduction plan using LED lighting, this was a high quality symposium. The great contributions to society by each of the speakers from Sweden are a tribute to the work of Professor Akasaki.
With the very high-quality lectures from of all of the speakers, this symposium turned out to be a great success.
* Web-casting of the symposium is available below.
http://www.iva.se/seminarium/blue-led-scientific-breakthrough-with-real-world-impact/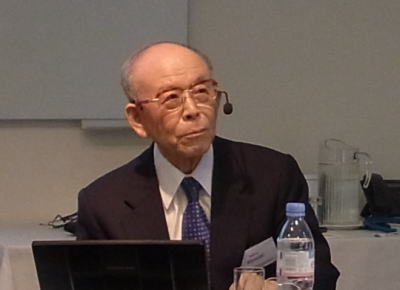 Prof. Akasaki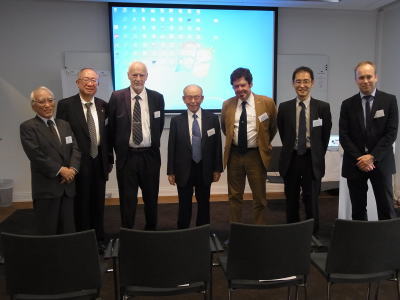 from left Hideo Akutsu / Director, JSPS Stockholm Office, Nobuyuki Kawashima / Executive Director, CSJ, Bo Monemar / Lund Univ., Lars Samuelson / Lund Univ., Satoshi Kamiyama / Meijo Univ., Johan Weigelt / Secretary general, IVA