Press conference concerning the 5th CS3 meeting
Press conference concerning the 5th CS3 meeting
A press conference concerning the 5th CS3 meeting was held in August during the 248th ACS National Meeting in San Francisco, USA. The 5th CS3 was held September 16-19 in Narita, Japan, under the theme "Efficient Utilization of Elements". Representatives from the five participating countries appeared at the press center in Moscone Convention Center.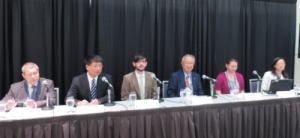 From the right: Christine Suh/moderator, Dr. Susannah Scott/ACS (UC Santa Barbara), Nobuyuki Kawashima/Executive Director of CSJ, Dr. Stephen Thomas/RSC (Univ. of Edinburgh), Dr. Xi Zhang/Vice President of CCS (Tsinghua Univ.) and Dr. Wolfram Koch/Executive Director of GDCh
At the beginning of the press conference, Prof. Scott presented an outline and history of CS3, and the white paper of the 5th CS3. This was followed by topical presentations by the five chemical society representatives.
It is expected that this CS3 will trigger expansion of international cooperation in this field.
This was the final event of the first round of CS3, and the second round is planned to begin with a conference in Germany in September, 2015.
* Web-casting of the conference is available below.